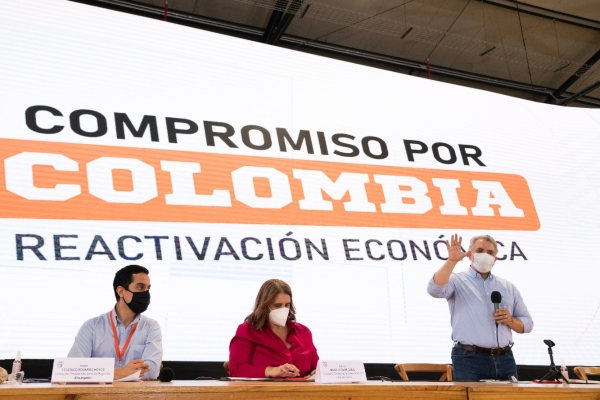 Fontur and the Mayor's Office of Cali joined efforts to promote the city as one of the most important cultural references in Colombia.
Cali (Valle del Cauca), September 26, 2020 (@fonturcol).
As part of the 'Commitment to Colombia' strategy, with which the Government advances the reactivation of the different sectors of the economy, the President of the Republic, Iván Duque Márquez; the president of the National Tourism Fund (Fontur), Raquel Garavito Chapaval; and the Minister of Commerce, Industry and Tourism, José Manuel Restrepo, met this Saturday in Cali with authorities, unions and businessmen from Valle del Cauca to advance in the construction of plans aimed at the recovery of the tourism chain in that department.
Faced with the tasks carried out by the entities of the National Government to promote the reactivation of tourism in Valle del Cauca, President Duque said that the 'Commitment to Colombia' "are joined by important projects such as the Orange Development areas in Cali where, with Fontur and Mincultura, we will support projects like this Dance Center for the city. We are also making progress with the 'Shake yourself' to cover the metropolitan area and emphasize programs with business development ".
In turn, the President of Fontur reiterated that this entity -which promotes the competitiveness of tourism in the country- supports the reactivation of the sector and the recovery of the confidence of the final consumer (tourist) through joint work with the regions to implement strategies such as the 'Certified Check In' biosafety seal (for actors such as hotels, airlines, restaurants, among others) to which $ 7 billion was allocated.
In the case of the tourist reactivation in Valle del Cauca, Garavito stated that Fontur and the Mayor's Office of Cali joined forces to promote the city as one of the most important cultural icons in Colombia. More than $ 1,600 million were allocated for this purpose.
He added that meetings such as the World Salsa Festival, the Petronio Álvarez Festival and the Theater Festival have positioned Valle del Cauca as an important reference point for local and foreign visitors. And in line with the strengthening of cultural tourism, Fontur will invest $ 2,500 million to build the Dance and Choreography Center (in the former Licores del Valle Industry), a platform that will be essential for the training of hundreds of dancers.
On the other hand, Garavito stated that Fontur also contributed to the renovation of the historic José Hilario López market square (in Buenaventura), which had an investment of more than $ 13,000 million also contributed by Mincultura and the DPS. This setting is key to the 'Pearl of the Pacific', because there, nationals and foreigners will be able to learn first-hand ancestral gastronomic and cultural traditions.