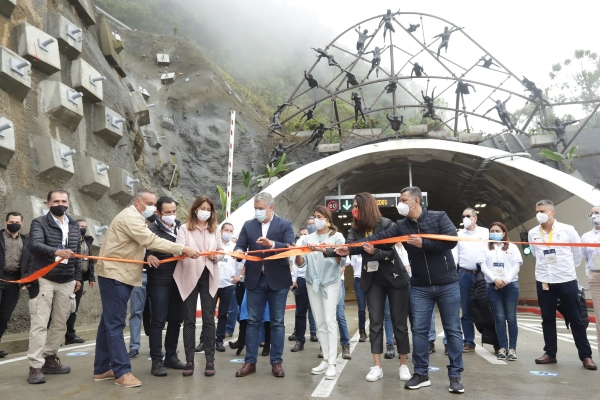 Bogotá, September 4, 2020. The president of Fontur, Raquel Garavito Chapaval, accompanied this Friday the President of the Republic, Iván Duque, the Minister of Transport, Ángela María Orozco, and the director of Invías, Juan Esteban Gil, to the official delivery of the La Línea Tunnel. This mega-project will transform the connection of the center of the country with the Coffee Axis and the southwest and will promote the development of important tourist areas.
The inauguration of the La Línea Tunnel, said the President of Fontur, is a dream fulfilled for all Colombians, which will allow Fontur to continue promoting tourism and economic growth in departments such as Quindío, Caldas, Tolima, Risaralda, Valle del Cauca and Cundinamarca.
Only in the main tunnel (8.5 kilometers long and considered one of the longest in South America), close to $ 1 billion was invested. Along with this infrastructure, four tunnels, five viaducts, two road interchanges and 13.5 kilometers of dual carriageway that are part of the Cruce de la Cordillera Central project were also provided at the service of Colombians.
This new route will be essential so that Colombians and foreign visitors can move easily to see attractions such as the Los Nevados National Natural Park, the Combeima river canyon, the National Coffee Park, the Cocora Valley, among others.